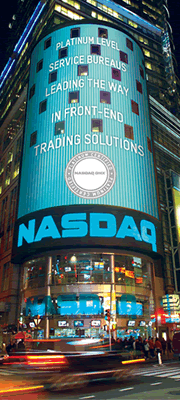 The NASDAQ OMX Certified Partners Program
The NASDAQ OMX Certified Partners Program was created to inform market participants of the NASDAQ OMX service bureaus that provide the highest levels of functionality, access and timely implementation of enhancements for NASDAQ OMX markets. This program was designed to help customers make informed choices about which service bureau is the right solution for their business. The Certified Partners Program is an evaluation program for which NASDAQ OMX service bureaus must apply.
Certified Partners Program Fact Sheet (PDF)


Qualification Criteria Checklist (PDF)
Maintaining Certified Partner Status
In order for the Certified Partners Program to benefit trading firms on a long-term basis, service bureaus will need to maintain their certification levels when NASDAQ OMX implements significant enhancements. NASDAQ OMX reviews our Partners' software frequently and as required by major initiatives.
---
Platinum Partners
Platinum Partners provide the highest level of NASDAQ OMX market functionality to their customers. They ensure that their trading products provide access to NASDAQ and NASDAQ OMX BX (BX) order types and routing strategies, access to the NASDAQ Opening and Closing Crosses, as well as many other market features. In addition, Platinum firms implement enhancements within 30 days of changes to a NASDAQ OMX system.
---
Bloomberg'sSell Side Equity Order Management System (SSEOMS) combines real-time trading with world class analytics and market data from the Bloomberg Professional service. SSEOMS includes dynamic Position Management, Order Management, Quote/Liquidity Management, as well as real time best execution analysis and reports. SSEOMS connects to NASDAQ, NYSE, Euronext, XETRA as well as to multiple U.S. Back Office systems (BETA, ADP, NFS, CSC, SIS, Pershing, Pragmatic, Bear Stearns and Spear Leads).


This Partner offers NASDAQ TotalView with NOII.

Contact Number: +1 212 617 2200
---
Citi's electronic trading solutions, including the Lava technology, are developed as high-performance trading products for our clients and the financial services industry. These products are created as true ASP solutions built to withstand maximum volumes in the most volatile conditions. Our Lava technology was the first solution to truly consolidate market data distribution and order execution capabilities across all major liquidity sources, including NASDAQ, Listed exchanges, ECNs and ATSs. Our OTC, Listed and Foreign Exchange solutions are used by leading broker/dealers, market makers, hedge funds and institutional investors.


This Partner offers NASDAQ TotalView with NOII.

Contact Number: +1 212 609 0100
---
DAS Inc is an industry leader in direct access trading technologies which offers to the brokerage and trading community end-to-end electronic trading solutions. DAS is a Market Data Vendor and Service Bureau to NASDAQ, NYSE, Option Pricing, Pinksheets. DAS products and its infrastructure are unique because of the choice of routing and direct connectivity to the various exchanges and the ability to offer low latency trading capability that are all package at an affordable price. We are also one of the 1st company to launch a full streaming real-time level 2 market data and trading apps for the Apple's iPhone, iTouch and iPad environment. iDASTrader is unique because it is the only direct access trading app currently available on the Apple app store with the same routing capability of our DAS Trader PRO window's application.


This Partner offers NASDAQ TotalView with NOII.

Contact Number: +1 845 282 7859
---
Fidessa manages the trading, order management, compliance and risk management for firms trading OTC or Listed securities. This is provided by utilizing the Fidessa connectivity services that provide access to a host of liquidity pools and gateways to receive orders. The advanced Fidessa trading applications such as "sweeping", smart routing and monitoring allow for the access to multiple sources of liquidity. Fidessa also provides a real-time integrated environment to monitor compliance and risk.


This Partner offers NASDAQ TotalView with NOII.

Contact Number: +1 212 269 9000
---
FTEN provides end-to-end trading solutions that support high speed, high volume trade flow across asset classes. With a highly scalable and consistent execution platform, integrated with co-location infrastructure, real-time risk controls, surveillance and compliance monitoring, the integrated framework offers time to market connectivity across liquidity venues.

FTEN2019s solutions are fully-managed and integrated to sustain the most consistently innovative and competitive solutions on the market2014 providing the backbone for building and expanding electronic execution businesses around the globe.

This Partner offers NASDAQ TotalView with NOII.

Contact Number: +1 212 808 8440
---
Goldman Sachs Electronic Trading offers equities, options, futures, and synthetics algorithmic strategies across North America, Europe and Asia. Goldman Sachs has been committed to electronic options trading for nearly 10 years and executes over 1 million U.S. options contracts each day. In addition to four liquidity-seeking options algorithms, clients can take advantage of SIGMA smart routing, sweeping functionality with Prowler, connectivity to all seven U.S. options exchanges, and complex order types, including butterflies, straddles, strangles and custom strategies. Additionally, Goldman Sachs recently introduced connectivity to several European options exchanges. Clients can access Goldman Sachs electronic options capabilities via REDIPlus, its award-winning Execution Management System, or via FIX.


This Partner offers NASDAQ TotalView with NOII.

Contact Number: +1 212 357 4255
---
Mixit is the world's trusted provider of advanced trading technology and FIX connectivity services to the international financial services industry. The Mixit integrated suite of products allows firms to trade and communicate across asset classes and markets in today's global environment. Mixit's expertise in electronic trading and compliance, our neutrality, and commitment to the highest level of service sets the foundation for customers to prosper.


This Partner offers NASDAQ TotalView with NOII.

Contact Number: +1 917 254 4060
---
ROX® is a premier trading platform developed by ROX Systems Inc. ROX® combines real-time market data and advanced analytics with instant execution on a host of markets, both domestic and international. A wide array of integrated features including order management, risk management, position management, and automated trading strategies have made ROX® the preferred solution for traders, institutional investors, arbitrageurs, and market makers worldwide. The ROX® trading platform also allows automation to enable black box trading for hedge funds and investment banks. ROX® is your Gateway to the MarketsSM.


This Partner offers NASDAQ TotalView with NOII.

Contact Number: +1 212 509 2300
---
SunGard provides a suite of offerings allowing customers to manage their trading operations, which includes Brass, Broker Direct U2, UMA, IOI, Allocations and Compliance modules. The integrated platform provides customizable, open solutions, allowing clients to use automation wherever it makes sense.


This Partner offers NASDAQ TotalView with NOII.

Contact Number: +1 201 499 5900
How to Become a Certified Partner
New Service Bureau:
Existing Service Bureau: