Electronic Trading Platform for U.S. Treasuries
In June 2013, NASDAQ OMX acquired eSpeed - an established electronic platform for trading U.S. Treasury Securities, including 2YR, 3YR, 5YR, 7YR, 10YR and 30YR "On the Run" Benchmarks.
Customers benefit from NASDAQ OMX's proven expertise in market technology and operational excellence in U.S. marketplaces combined with eSpeed's pioneering work in the electronic execution of U.S. Treasury securities trading.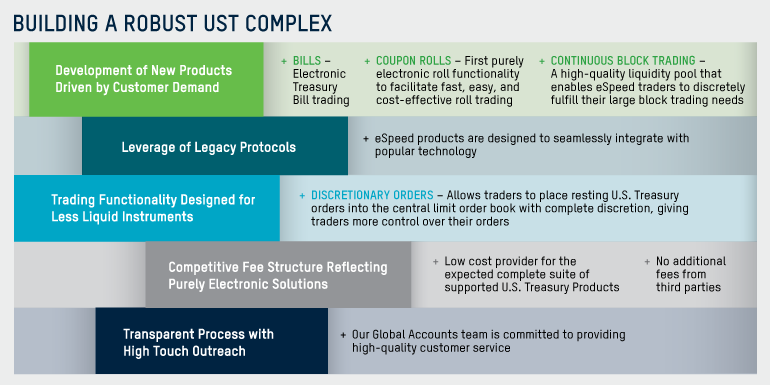 2014 Initiatives

Platform Details
Connectivity and Order Execution
Functionality
eSpeed's proprietary API is a combination of marketplace trading tools, making automated trading faster and more flexible.

Several methods of order execution available to support a variety of trading

Direct FIX 4.4- the industry standard in connectivity
Native API
Third party vendors

Straight-through processing through FIX or API
Ultra low latency connectivity through Co-Location
Real-time multicast market data

The fully-electronic NASDAQ OMX eSpeed trading platform features leading functionality based on customer demand:

Central Limit Order Book matches customer orders on a Price/Time priority basis for fair and equal market access
FIFO market with no "work up"
Supports global market trading hours, open 22-23 hours per day
Sophisticated risk management tools, which includes pre and post trade risk controls
100% anonymous market
Connectivity, Prime Brokers and ISV Partners
For further information on connectivity options, prime brokerage services and the Preferred Vendor Program, please contact Patrick Troy, NASDAQ OMX Business Development, at +1 312 568 5964 or espeed.sales@nasdaqomx.com
NASDAQ OMX Co-Location
NASDAQ OMX Co-Location Services offers subscribers a unique opportunity to place their own trading systems within NASDAQ OMX data centers. Through our primary data center, firms can access all eight of NASDAQ's U.S. Markets.
The NASDAQ Stock Market
NASDAQ OMX BX
NASDAQ OMX PSX
NASDAQ OMX BX Options
The NASDAQ Options Market
NASDAQ OMX PHLX
NASDAQ Futures
NASDAQ eSpeed
Close proximity to all NASDAQ OMX U.S.-based market platforms significantly reduces message latencies and network connection costs. Contact Doug Aragones at +1 212 231 5189 or Rich Mitterando at +1 212 401 8788 for more information on how your firm can benefit from Co-Location.