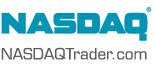 Nasdaq Global Data Products
U.S.-based Equity Products Price List
Pricing information on the Nasdaq Nordic and Baltic markets can be found here. (http://nordic.nasdaqomxtrader.com/marketdata/pricinginformationwide/).
The list of NASDAQ's approved market data fees appears below. Please note that these fees are subject to change at the discretion of The NASDAQ Stock Market or the UTP Plan. Please also note that these prices do not include vendor access or telecommunications charges.
Nasdaq BX
Nasdaq PSX
Nasdaq Web-Based Reports
Nasdaq Annual Administration Fee
Details:
NASDAQ Basic only:
TotalView only:
Other Nasdaq products with enterprise license option: