&nbsp

&nbsp
Nasdaq Exchange Traded Funds
The World's Largest Exchange for ETFs
Based on trading volume, The Nasdaq Stock Market is the world's largest exchange for exchange traded funds (ETFs). The Nasdaq ETF Market is a competitive listing venue designed specifically for ETFs. Leveraging our strength in trading, indexing, investor outreach and sourcing liquidity, Nasdaq helps sponsors create, grow and evolve ETFs into liquid investment tools.
Flexible Structure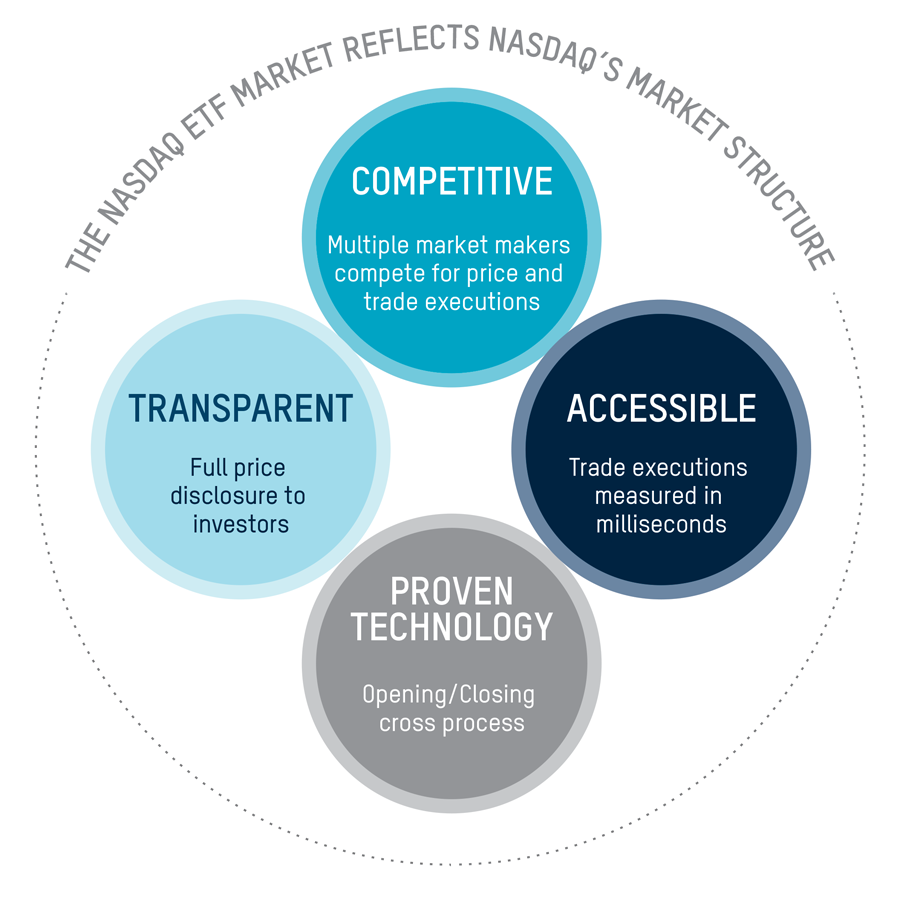 Lead Market Maker Program
The centerpiece of The Nasdaq ETF Market is the Lead Market Maker (LMM), a market maker who has been selected to maintain liquidity in qualified ETFs (i.e., Qualified Securities). Nasdaq requires LMMs to maintain a higher standard of market quality. LMMs receive economic incentives to support ETFs during their period of initial listing, when ETFs need to develop more active trading. LMMs are selected through a consultative process between ETF sponsors, market-making firms and Nasdaq.
Benefits for Issuers
A Full-Service Offering
The Nasdaq ETF Market is the only end-to-end solution available to the ETF issuer community. Capabilities include:
Indexing – Nasdaq is a full-service Index provider with diverse indexes covering all asset classes. Prepared with an index solution for any market, we provide independent, third-party custom index services and design solutions to financial organizations worldwide. A wide range of capabilities allow clients to set unique parameters based on regions, sectors, theme, taxes, regulatory constraints, calculation methods or specific investment strategies to create the exact index needed. See all the ETFs based on Nasdaq indexes.
Listing – A premier listing exchange for approximately 3,600 industry-leading companies from more than 50 countries representing all industry sectors and many of the world's most well-known and innovative brands.
Trading – As the largest ETF exchange based on volume, Nasdaq offers a trading venue with deep liquidity and transparency.
Data Dissemination – Nasdaq Global Data Products provide millions of traders and investors all over the world with strategic advantages, including superior speed, transparency, depth and flexibility of data management and delivery.
Superior Technology – Nasdaq is renowned for its high performance INET technology and has proven reliability with 99.99+% uptime. Firms count on Nasdaq for unsurpassed speed and tested capacity to execute trades quickly and efficiently.

New ETP Listings
Contact
To learn more about the benefits of listing or trading on The Nasdaq ETF Market, please contact Jeff McCarthy, Head of ETP Listings and Services, at +1 212 231 5814.
For information or questions on U.S. Equities generally, please contact Walt Smith, Head of U.S. Equities and Business Analysis at +1 215 496 5532.