The NASDAQ Certified Partners Program
The Nasdaq Certified Partners Program was created to inform market participants of Nasdaq service bureaus that provide the highest levels of functionality, access and timely implementation of enhancements for Nasdaq markets. This program was designed to help customers make informed choices about which service bureau is the right solution for their business. The Certified Partners Program is an evaluation program for which Nasdaq service bureaus must apply.

Certified Partners Program Fact Sheet (PDF)


Qualification Criteria Checklist (PDF)
Maintaining Certified Partner Status
In order for the Certified Partners Program to benefit trading firms on a long-term basis, service bureaus will need to maintain their certification levels when Nasdaq implements significant enhancements. Nasdaq reviews our Partners' software frequently and as required by major initiatives.
---
Silver Partners
Silver Partners offer the next level of Nasdaq functionality, and ensure that all enhancements are made within 60 days of the changes to a Nasdaq system. The functionality offered includes allowing users to send anonymous and non-displayed orders, ability to use NASDAQ and BX order types and all TIF values, as well as display market makers' quote/order and reserve size.
---
Bon Trade Solutions is a leading provider of risk managed electronic trading solutions and market center connectivity. Our proven systems are designed to handle the high message demands of today's market. Bon Trade products are built on our low latency 64 Bit FIX Core. Components include sophisticated Risk Managed FIX engines, over 50 Destination Handlers, powerful Middleware tools, Compliance reporting tools and two EMS platforms. We have all the parts necessary to meet today's electronic trading requirements. Our components can be seamlessly integrated into your firm's current infrastructure for enhanced productivity, FIX Order Management and Risk Management.

This Partner offers NASDAQ TotalView with NOII.

Contact Number: +1 973 429 3741
---
FlexTRADER, the premier rules-based, broker-neutral trading and OMS is a customizable system with pre-defined trading strategies for global lists as well as single stocks, futures and options. Traders can act swiftly and anonymously in volatile market conditions to minimize market impact, transaction costs and exposure risk of large multi-sided portfolios. FlexTRADER integrates with a firm's existing OMS and operates in real-time, enabling those trading from a master list to efficiently manage cash constraints and allocations.

This Partner offers NASDAQ TotalView with NOII.

Contact Number: +1 516 627 8993 x2
---
Lightspeed Trading is a leading provider of ultra low latency, direct market access trading technology, risk management and brokerage services to professional active traders, proprietary trading groups and hedge funds. Lightspeed Trading serves its clients through two technology solutions: Electronic Trading and Algorithmic Trading. The Electronic Trading solution offers sophisticated brokerage services and a comprehensive solution through which traders can analyze real-time market data and execute equities, options and futures trades from a single customizable trading screen. The Algorithmic Trading solution provides high frequency professional or institutional clients employing algorithmic or black box trading strategies with sophisticated brokerage services and a complete technology infrastructure for high performance direct-market access, as well as risk management tools, and co-location services within NASDAQ's datacenter.

This Partner offers NASDAQ TotalView with NOII.

Contact Number: +1 646 393 4800
---
LiquidityBook is a full suite financial technology company with customized solutions for ALL securities firms and market participants who understand that innovative trading and messaging solutions will increase profitability while reducing unnecessary expense and risk.

LiquidityBook adds speed, breadth, and accuracy to all capital market communications and is the industry's most innovative messaging system whether dealing with brokers, clients, exchanges or traders - across the room, or across the world – in Equities, Options, and Futures.

LiquidityBook offerings include: dual platform (IM and web based) buy-side and sell-side OMS, FIX normalization and management services, risk and compliance tools, and customized high frequency trading solutions.

Contact Number: +1 866 359 4541
---
The Laser trading platform was developed using optimized multi-threaded C++ code, running on the latest servers with high bandwidth direct LAN, point-to-point connections to ECN's, NASDAQ and NYSE. The latency to some ECNs can be as low as 1 to 3 ms. Laser is used by professional and retail day traders, institutions and hedge funds. STS supports the computerized or "black box" traders through proprietary API/protocols and also hosts black boxes in our datacenter.
This Partner offers NASDAQ TotalView with NOII.
Contact Number: +1 212 668 0888
---
SunGard Global Trading (formerly GL Trade) is a leading Independent Software Vendor serving over 500 international financial institutions worldwide. With its presence in more than 20 countries, the group partners with major brokers to design and implement their electronic trading infrastructure. SunGard Global Trading provides a wide range of solutions and services with dedicated pools of experts from order management, risk & execution to clearing & settlement in derivatives, securities & capital markets activities. Significant investment in R&D coupled with highly skilled staff allows SunGard Global Trading to respond to client needs and market changes, as well as to anticipate market trends and needs.

This Partner offers NASDAQ TotalView with NOII.

Contact Number: +1 212 458 0325
---
Thinklink, thinkorswim's Order Management System (OMS) is designed for institutional broker-dealers that need to manage equity and option order flow. Whether FIX orders from any buy-side customer or manual entry, the trader is able work orders with domestic and international points of liquidity. Included is reporting of customer allocation and street execution details to your clearing firm as well as superb trade desk support, online web reports, OATS, OTS and Program Trading Reporting. With Direct Market Access (DMA) capability, thinklink combines the functionality of a trade order management system, execution system and algorithmic trading system all at low cost.

This Partner offers NASDAQ TotalView with NOII.

Contact Number: +1 781 657 0233
---
Townsend Analytics/RealTick is a recognized leader in providing technology-driven solutions for the global capital markets. The Chicago based firm has engineered direct-access solutions for broker-dealers, asset managers, hedge funds and mutual funds worldwide. The firm's four main lines of business include: Trading Services, Content Services, Exchange Services and Risk Management Services.

RealTick® EMS, created by Townsend Analytics, is the electronic trading industry's premier multi-asset, multi-broker, and multi-route direct-access trading platform. RealTick EMS delivers real-time market data (full depth of book), news and analytics; sophisticated trading tools; unrivaled access to major liquidity sources- exchanges and ECNs; and risk management tools to institutions, broker-dealers and individual investors.

This Partner offers NASDAQ TotalView with NOII.

Contact Number: +1 800 827 0141
---
Ullink is an independent provider of comprehensive low-latency connectivity and multi-asset class trading solutions. We enable both buy and sell side financial institutions to build 100% vendor-neutral trading environments by developing modular, global solutions for every asset class. Incorporated in 2001, we are an organically built company now employing over 200 dedicated professionals with offices in New York, London, Paris, Hong Kong, São Paulo, Sydney, Tokyo and growing. We support customers worldwide, around the clock. Our proven capacity to deliver reliable software and exceptional services has earned us the trust of hundreds of clients, including many of the world's largest financial institutions.

This Partner offers NASDAQ TotalView with NOII.

Contact Number: +1 212 991 0816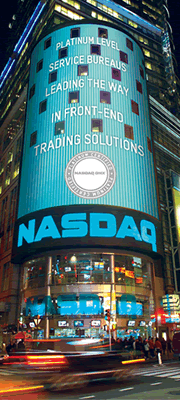 How to Become a Certified Partner
New Service Bureau:
Existing Service Bureau: